In today's competitive market, finding the best deals on hotels and flights is a top priority for budget-conscious travelers. Whether you're planning a business trip or a leisurely vacation, knowing how to secure the most affordable accommodation and airfare can make a significant difference in your overall travel experience. In this comprehensive guide, we will reveal the most effective strategies for getting the best deals on hotels and flights.
1. Utilize Online Travel Agencies and Comparison Websites
Online travel agencies (OTAs) and comparison websites such as Golakbay.net to offer a convenient way to search for and compare hotel and flight deals from various sources. Some popular options include Expedia, Kayak, and Priceline. By comparing deals from multiple providers, you can ensure that you're getting the best possible price for your travel arrangements.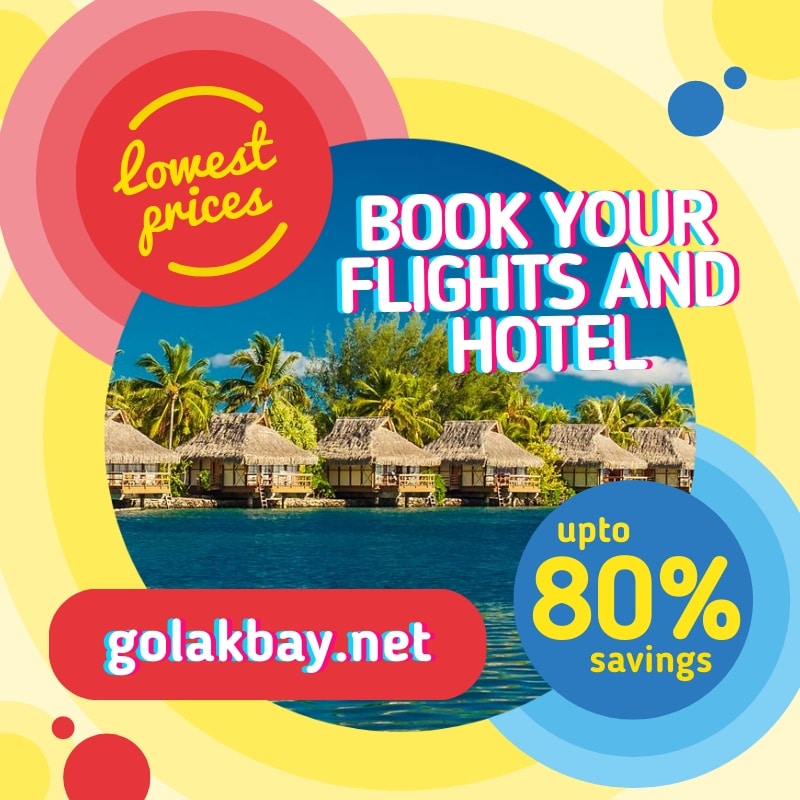 2. Leverage the Power of Travel Apps
There are numerous travel apps available that can help you find the best deals in hotels and flights. Some popular options include SuperTravel, Skyscanner, and HotelTonight. These apps use data-driven algorithms to predict and notify you of price drops, making it easier to secure the most affordable rates.
3. Sign Up for Price Alerts
Price alerts can help you stay informed about price fluctuations for hotels and flights. By signing up for price alerts from websites like Google Flights or Airfarewatchdog, you can receive notifications when prices for your desired destinations drop, allowing you to book at the lowest possible rate.
4. Be Flexible with Your Travel Dates and Times
Being flexible with your travel dates and times can significantly increase your chances of getting the best deals in hotels and flights. By avoiding peak travel seasons and opting for mid-week flights or hotel stays, you can often find lower prices. Additionally, consider traveling during off-peak hours, such as early morning or late-night flights, to take advantage of potentially lower fares.
5. Book in Advance or Last Minute
Booking in advance or last minute can both yield great deals in hotels and flights. For flights, booking at least two months ahead of your travel date is often recommended, as airlines typically offer lower fares the further out you book. For hotels, booking last-minute can lead to discounted rates, as hotels may lower their prices to fill empty rooms.
6. Use Reward Programs and Credit Cards
Many hotel chains and airlines offer reward programs that allow you to earn points for every dollar spent on travel-related expenses. By signing up for these programs, you can accumulate points that can be redeemed for discounted or even free hotel stays and flights. Additionally, using travel-specific credit cards can help you earn additional rewards, such as cashback, travel credits, or airline miles.
7. Consider Alternative Accommodations and Airports
To find the best deals in hotels and flights, it's essential to think outside the box. Consider alternative accommodations, such as vacation rentals, hostels, or home-sharing platforms like Airbnb. These options can often be more affordable than traditional hotels. Additionally, when booking flights, consider flying into or out of alternative airports, as these locations may offer lower fares than their larger, more popular counterparts.
8. Bundle Your Hotel and Flight Bookings
Many OTAs and travel websites offer the option to bundle your hotel and flight bookings, which can lead to significant savings. By booking your hotel and flight together as a package, you may be able to secure a lower overall price than if you booked each component separately.
9. Negotiate Directly with Hotels
When booking a hotel, it can sometimes be beneficial to negotiate directly with the hotel for a lower rate. Contact the hotel directly, either by phone or email, and inquire about available discounts or promotions. In some cases, the hotel may be willing to offer a reduced rate or additional perks, such as complimentary breakfast or room upgrades, to secure your reservation.
10. Take Advantage of Corporate, Military, or Student Discounts
Many hotels and airlines offer special discounts for certain groups, such as corporate employees, military personnel, or students. If you're eligible for any of these discounts, be sure to mention it when booking your travel arrangements to potentially receive a lower rate.
11. Join Travel Communities and Forums
Travel communities and forums, such as FlyerTalk or TripAdvisor, can be valuable resources for finding the best deals on hotels and flights. By engaging with fellow travelers, you can gain insights into current promotions, hidden discounts, and other money-saving strategies that may not be widely advertised.
12. Monitor Social Media and Newsletters for Exclusive Deals
Many hotels and airlines use social media platforms and newsletters to announce exclusive deals and promotions. By following your favorite travel brands on social media and subscribing to their newsletters, you can stay informed about any special offers or limited-time deals that may become available.
Getting the best deals on hotels and flights requires a combination of research, flexibility, and resourcefulness. By leveraging the power of technology, utilizing rewards programs, and staying informed about the latest promotions and discounts, you can significantly reduce your travel expenses and enjoy a more affordable and enjoyable trip.